There are many Hummingbird enthusiasts here at North Shore Animal Hospital, myself included.  Each spring my co-workers even track the migration of Hummingbirds from down South, back up to Wisconsin. Lindsay, one of our Veterinary Technicians, waits with bated breath and several sugary filled feeders for the Hummingbird's return and euphprically celebrates her first sighting. Every year,  a charm  (that's really what a group of these cute little birds is called) of Hummingbirds, returns each year to take advantage of Lindsay's hospitality and multiple feeders.  I also recently discovered that our receptionist, Vickie B. previously worked for a company that designed Hummingbird feeders! How incredibly cool is that?  She had so many beautiful photos to choose from because part of her job was to research which of the feeders Hummingbirds were most attracted to and take photos of them.
Photos courtesy of Vickie B.
  
---
My own affinity for Hummingbirds started while I resided in Arizona for sixteen years.  There are many varieties of Hummingbirds that call that region of The United States, home. Some of which can be found happily feeding and fluttering about in a Hummingbird Aviary at the Sonoran Desert Museum located in Tucson.   I highly recommend checking it out if you travel to the Southwest.  (There is also an abundance of Hummingbird information on their website) 
I decided to do a little research on the Hummingbirds that call Wisconsin "home" during the warmer seasons.  I also asked Lindsay about her personal experiences with these cute little birds and she was more than happy to talk about her feathery friends. Here's the scoop with Hummingbirds in Wisconsin: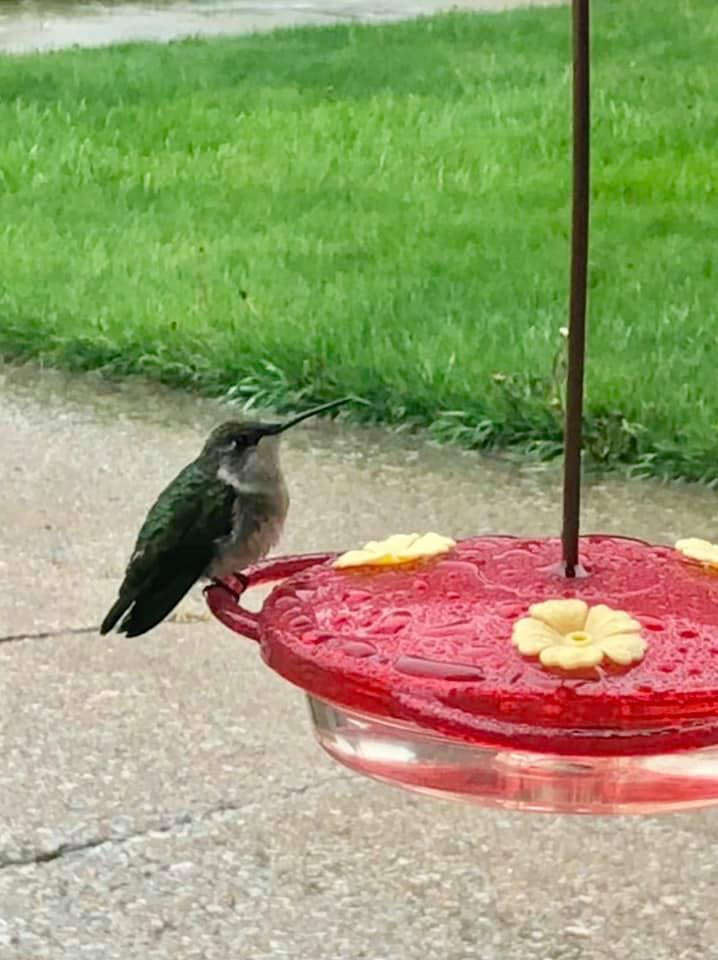 Hummingbird at Lindsay's Sugar Bar
Here's The Scoop with Hummingbirds in Wisconsin! 
According to Wikipedia;   Hummingbirds are capable of hovering in mid-air due to the rapid flapping of their wings. They are the smallest speicies of birds and the only birds that can fly backwards.  They can travel up to 34 mph and have an average wing flapping rate of 46 flaps per second!
The most common Hummingbird found in this area is the Ruby-throated Hummingbird but there are seven species of Hummingbirds that have been recorded in Wisconsin:
What does Lindsay say about Hummingbirds?
Q:  How many different species of Hummingbirds have you seen at your feeders?
A:  I only have the Ruby Throated Hummingbirds, although I have heard of the Rufous Hummingbird being spotted. 
Q:  How do you track the migration of Hummingbirds?
A:  I use the Hummingbird Central website in the early spring to track the migration.
Q:  What do you feed your Hummingbirds?
A:  I use one part granulated sugar to four parts water.  Boild for a few minutes and then cool.  I change out the feeders two to three times per week and more often in hotter weather.  The red dyed food that is sold in stores is not good for Hummingbirds at all.
Q:  Do you plant any specific flowers to attract Hummingbirds to your yard?
A:  I purposely plant red flowers and flowers known to attract them such as Crimson Red Morning Glory, Red Fountain Plant and Manvedella.
Q:  What advice would you give to others to attract Hummingbirds to their yards?
A:  Keep your feeders clean with fresh sugar water.  Never use the red dye.  Use feeders that are red or have bright red on them.  Keep your cats indoors as they have been known to kill Hummingbirds.  Lastly, be patient.  Hummingbirds can sometimes be hard to spot but eventually they will find your feeders or flowers and eventually you will spot your very own Hummingbirds!                                                                                                  
Lindsay's Hummingbird "buffet"
 
---
Good luck hosting your own Hummingbird backyard party! 
 Just don't invite your cats, they can enjoy these tiny little birds from a window and not on the menu!